I've been involved in the fitness industry for over 20 years now. I qualified in 1991, and over the years I've seen ALL the fads and fashions come and go. I've been there, done that and got the photos in lycra to prove it! I started in the industry as a gym and class instructor and have taught various classes over the years including circuits, boxercise, step aerobics and pilates.
I've worked in various different venues, and also independently. For the last sixteen years  I have worked at the prestigious Cameron House Hotel and The Carrick Spa Resort. Both of which are five star resorts on Loch Lomond. I introduced both personal training and pilates to these venues. Pilates has continued to be so popular that there is a waiting list for classes and I continue to have a growing client list for personal training.
Throughout my career in fitness, I've never stopped learning. As new research and information comes out I'm increasing my knowledge, implementing it with my clients to maximise the potential in every program written.
When I first started personal training it was something that the rich and famous did, not something for everyone. Thankfully perceptions have changed and with more people coming into the industry every year it's become more common to work with a trainer. This is something I'm excited about as I want everyone to experience what it's like to work one on one with a trainer.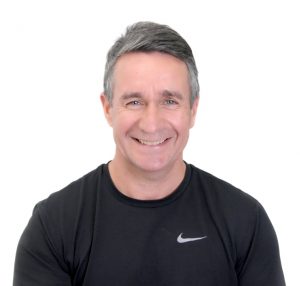 I've stayed in this industry for so many years because I still have have a passion for it. I love helping people achieve their goals. I truly believe that personal training should be an education. It's satisfying to watch clients develop not just physically but also in so many other ways. It's fantastic to watch clients gain confidence and improve their self esteem. Some of my former clients have even gone on to become personal trainers themselves.
I believe in starting from where you are right now as each individual is different. Building a solid foundation and fostering a lifelong respect for health and fitness.
We start the fitness journey with all clients by discussing your goals and expectations. Knowing what you want to work towards then allows us to work through appropriate assessments that establish where you are right now. This gives us a reference point to look back at when you have made progress towards your goals.
Achieving your goals is as much about what you do outside the gym as within it. With that in mind, we can offer advice and support with nutrition, out of gym exercise planning, holiday training, stress management, massage therapy and much more.
I believe nutrition is the cornerstone of success and a lot of the time is the missing link in clients not fully realising their goals and seeing the results they crave. There are so many ways we can incorporate a healthy eating plan into your day to day life to achieve your goals.
My goal is to work with clients to empower them to feel in control of their fitness, so that they can walk into a gym with confidence or even get a fantastic workout while travelling with little to no equipment at all.
I look forward to working with you to achieve your fitness goals. So let's get started, call 07816 932 778 and take that first step on our journey together.